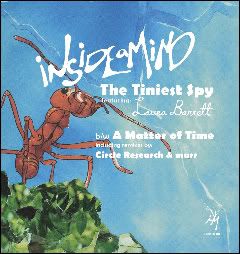 THE TINIEST SPY 12" b/w A Matter of Time including remixes by
Circle Research
&
Murr (LAL)

With a steadily growing and dedicated worldwide fan base,
iNSiDEaMiND
are proud to announce the release of their debut 12" highlighting two tracks off their forthcoming Scatterpopia LP.
*12" Available worldwide in Vinyl and Digital format May 1st 2008 *
......................
A1. The Tiniest Spy ~ feat.
Laura Barrett (Paper Bag Records).

A2. The Tiniest Spy ~ Instrumental
A3. The Tiniest Spy ~ A cappella
A4. Bonus Bits ~ feat. a unique array of sounds for the adventurous scratch musicians around the world.
B1. A Matter of Time ~ Original
B2. A Matter of Time ~ Organic Coffee remix by
murr (Lal, Public Transit Recordings)

B3. A Matter of Time ~
Circle Research remix (Melting Pot Music)

Truly an instant classic, the Tiniest Spy 12" is a must have.
iNSiDEaMiND
brings electronic edge down to earth with their turntable folk soundtrack.