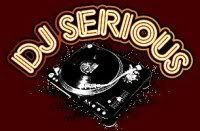 http://www.facebook.com/event.php?eid=7948663458
Join us Thursday January 31st for
ROCKIT!
featuring
DJ SERIOUS
The man needs no introduction. I don't need to tell you that he was ordering the hip hop vinyl for
Play De
and
TRAXX
back in the days before MP3's even existed. You've probably heard about his
mammoth record collection
. Or how we inherited his radio show slot when he moved
CIUT
. I don't even need to mention his
two critically acclaimed albums
or slew of remix work that followed. We could use the terms
"Juno-nominated"
or
"Canadian Independent Music Award Winner"
but really, we don't need to. Just know that he's fresh off a tour with fellow
Dj Dopey
, and will be getting SILLY on the decks with us this week at
ROCKIT!ROCKIT!
w/ Guest:
DJ SERIOUS
(Hip Hop, Funk,Soul)
and resident DJ's
*circle research*
(funk, electro, disco, classic hip hop)
@ Andy Poolhall
489 College St.
FREE
19+