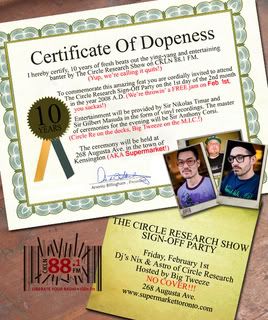 http://www.facebook.com/event.php?eid=7079421380&ref=share
CIRCLE RESEARCH SIGNS OFF AFTER 10-YEAR TENURE!
After 10 years of "fresh beats out the ying-yang" and hilarious banter,
The Circle Research Show
on
CKLN 88.1
FM
is officially signing off! On behalf of Dj's Nix & Astro, and host Big Tweeze, we'd like to thank you for supporting underground community radio, by inviting you to the
"THE CIRCLE RESEARCH SHOW" SIGN-OFF PARTY!

Join us to celebrate a decade of classic hip hop, funk, disco & electro straight from vinyl to the late-night airwaves! Over the years the Circle Research gang brought you such highlights as Cutthroat Island - a live phone-in freestyle battle, T.O. Talent - a weekly spotlight on Toronto artists, plus countless guest interviews and performances by local and international artists.
But not to worry! 2008 will see The Circle Research Show progress into a phenomenon that will take the internet by storm! That's right! The witty banter and choice selections will continue in the form of bi-weekly podcasts, free of broadcast rules and regulations!
+Listen to the Radio Ad:
http://www.divshare.com/download/3396363-e5b
THE CIRCLE RESEARCH SHOW SIGN-OFF PARTY
Friday, February 1st
Dj's Nix & Astro of Circle ResearchHosted by Big Tweeze
NO COVER!!!
Supermarket, 268 Augusta Ave.
www.supermarkettoronto.com